Today I have a new type of water decals to show you, and by "new" I mean I haven't posted it here before. The decals I'm talking about are of a photographic quality with lots of tiny details.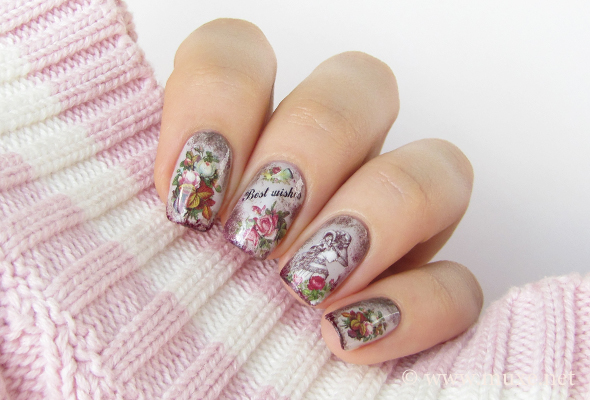 I got this set of retro themed water decals from the Born Pretty Store. Unfortunately I completely forgot to take a pic of the decals before I cut them into pieces :( If you are interested to see how the set looks like as a whole, you can find it here – mine is BOP 160-163, it's the second one from the top.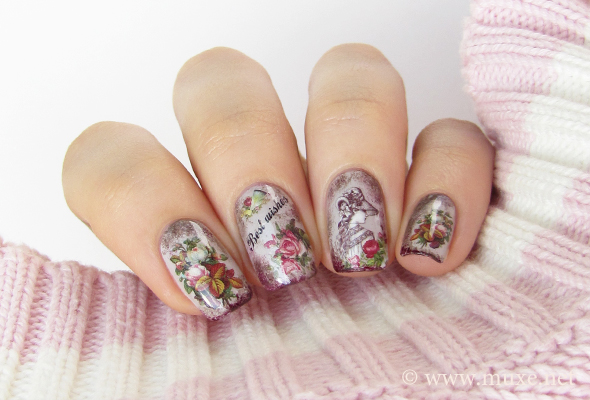 For the vintage nail art I used pieces from the groups 162 and 163. In the center of the design there's a portrait of a young lady. I liked the portrait so much that I decided to build a retro themed manicure around it. I also added "Best Wishes" text to make it look like an old pre-war postcard. Some sponging with brown and dark purple helped me to create the aged effect.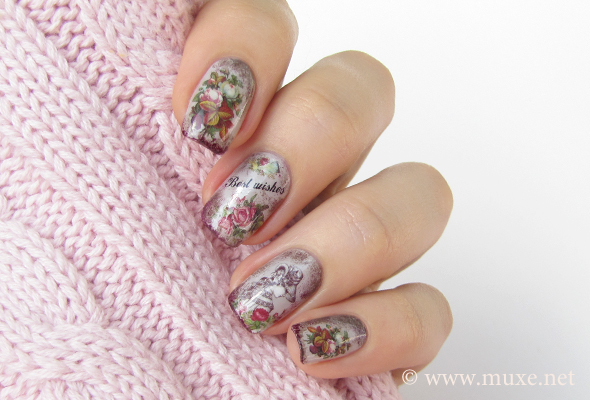 Now let me show you the lovely lady a bit closer: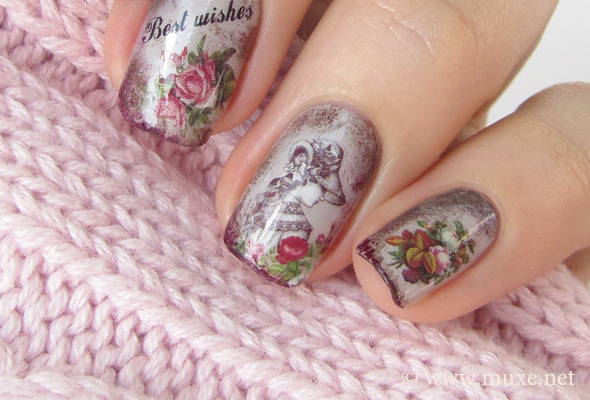 On the white background the images would have been more vivid, but since I wanted to achieve a retro look, I chose a light grey color. Overall, for my retro nails I needed:
Max Factor #15 Opal – a light grey pearly shimmer for the background
OPI You Don't Know Jacques! – one of those rare browns that I can wear solo, but here Jaques is used for sponging
OPI We'll Always Have Paris – dark purple for sponging
Retro water decals
Clear top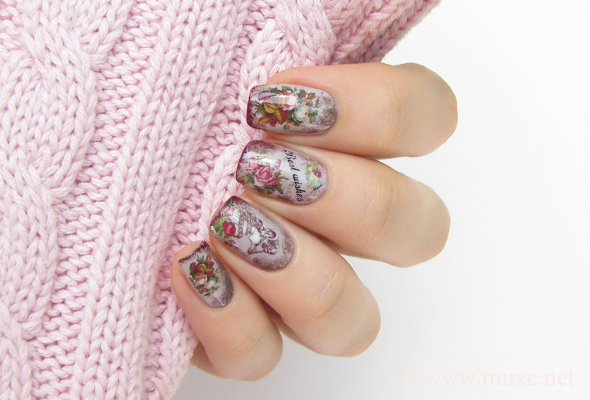 The decals are easy to apply – you can get a retro manicure in no time. If you have never tried this kind of nail decorations before, just follow the instructions on the back of the package. The decals set retails for $3.99 with free international shipping, the product's page is here. For the money you'll get 4 full retro manicures. Also, remember that if you use the coupon code MARIX31, you'll get an additional 10% off your entire purchase :)
Thank you for reading, I hope you liked the vintage postcard design! See you soon ♥
*The product was sent to me for review
You can follow any responses to this entry through the RSS 2.0 You can leave a response, or trackback.