Now when the Valentine's Day celebration is over, I can continue with the 31 Day Challenge themes :) Today's manicure is inspired by supernatural powers. My first idea was to do an alien nail art, but then I thought I already did Galaxy nails for the Challenge. Eventually I decided on ghosts and a haunted house, so let me show you the design: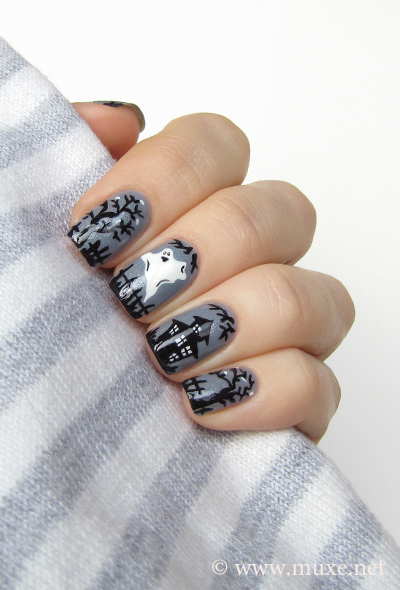 I tried to paint a kind and friendly ghost, and I also "gave" him a house with a tiny garden, surrounded by a fence (ghosts don't like intruders). Here he is a bit closer, saying Hi to you: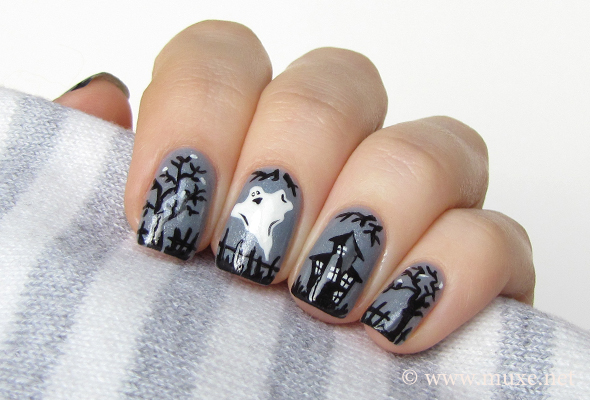 The nail look is suitable for Halloween party I guess :) The base color here is Orly Pixie Dust, as for the ghost with the house and trees – that all is painted with acrylic paints.
That was Day 29: Inspired by the Supernatural, and I hope you liked the design. Obviously it's not for everyday wear, but the supernatural theme didn't left me much choice :)
Thank you for reading! xxx
You can follow any responses to this entry through the RSS 2.0 You can leave a response, or trackback.