Happy New Year everyone! :) According to Chinese astrology, 2013 is the year of the black Snake. Having that in mind it was easy to choose a theme for my New Year nails: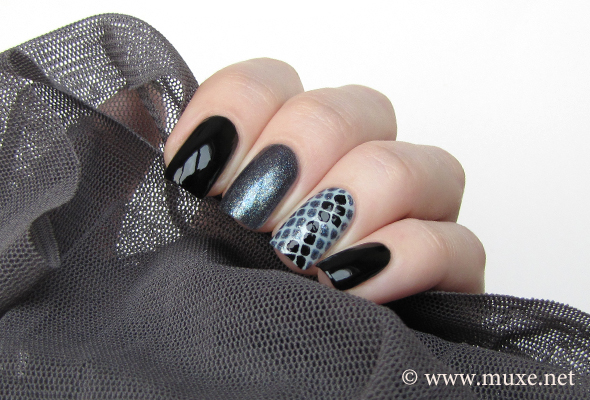 I did a black and grey nail art, using a snake skin pattern as an accent. It's been a while since I wore a black nail polish on my nails, so I enjoyed the look a lot.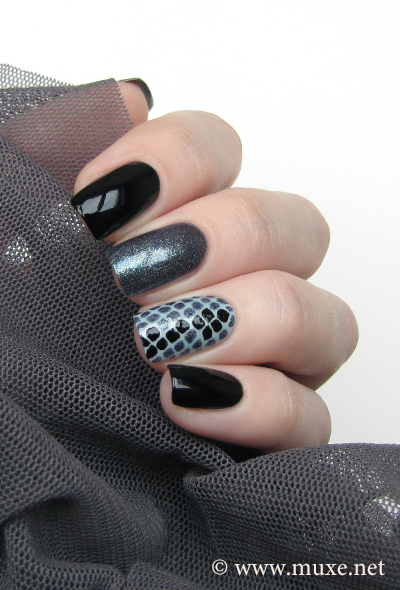 For the middle accent finger I used OPI On Her Majesty's Secret Service from the OPI James Bond holiday collection (3 coats). As for the snake skin nail design, I used OPI I Vant to Be A-Lone Star as a base, and then I freehand painted the snake pattern with the OPI OHMSS and a black nail polish. I liked it how well the OPI shimmer matched the snake skin idea :) It's sparkling and a bit textured.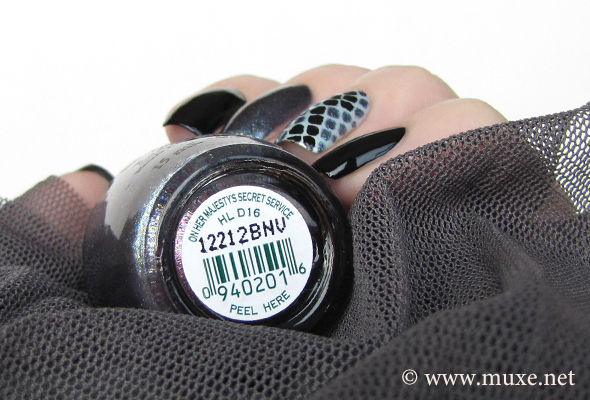 Black color on the rest of the fingers and in snake design is Cult Nails Nevermore, one of my most favorite black cremes. It's very well pigmented and glossy on its own. Here I have 2 coats of Nevermore over a base with a clear top coat.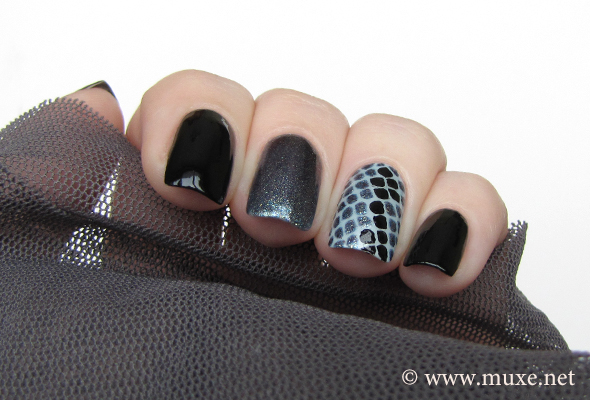 Overall, for the snake skin nail design I used:
Lumene Gloss and Care base
OPI I Vant to Be A-Lone Star – light grey base for the snake accent
OPI On Her Majesty's Secret Service – festive grey shimmer for the accent and to paint the snake skin with
Cult Nails Nevermore – black creme
Clear top coater
Although snake is often associated with venoms and danger, in many countries snake is considered to be a symbol of luck and wisdom. So I wish you a happy and safe new year, full of luck and love :)
I also want to say a big "thank you" to all of you, for sharing my passion for nail polish, for following my blog and commenting once in a while. You've been a great encouragement to me!
Happy New year! ♥
You can follow any responses to this entry through the RSS 2.0 You can leave a response, or trackback.