Hello! Today I have a new guest, his name is Artyom and he's happily married to Nastya. If you follow my blog, you most likely remember Nastya from my previous posts, if not – you can see her first guest post here. Lucky girl – she has a husband who happens to be a photographer :) And lucky me, coz I have a chance to share with you some really nice photos made by Artyom. As always with me, the pics will be of nails and nail art.
Here we go – Nastya and some girly nail art (please click on the pics below for the larger images):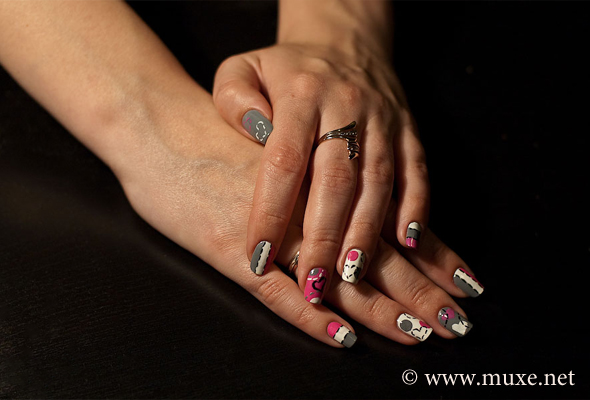 So, all 3 of us worked _really_ hard to make the post – I did the nail design, Nastya was a patient model, and Artyom took the pics… Me joking actually, it wasn't hard at all :)) When you do what you love to do, it's fun!
The list of products I used to do the nail art:
White base – Sally Hansen White On
Grey color – Rimmel 60 Seconds in Grey Matter
Pink color – OPI Shorts Story
Black stripes – Sally Hansen Black Out
Clear top – Orly Glosser
Thin nail art brush (to draw the lines)
Tape (to do the stripes quickly and precisely)
The design is girly and Barbie-like – a mixture of bright colors, dots, hearts and stripes. Perhaps it's not for every day, and not to wear in the office, but for a weekend – why not :) Anyway, I hope you liked the nail art and the pics.
And finally, I'd love to say a huge thank you to both Nastya and Artyom for taking their time to help me with this post. Guys, you are great and you know it and I love you!
Here they are, saying hi to all of you :)
That's all for today, thank you for reading and see you soon! xxx