Today is the Tribal Print Nails day :) To be honest with you, I've never done anything like this before and I wasn't even sure how tribal nail art should look like. When it comes to nail designs I prefer all kinds of flowers, butterflies, hearts and other girly stuff. So for this challenge I googled for tribal designs and I saw some interesting Aztec examples. Inspired by this ancient culture I came up with my own tribal print manicure: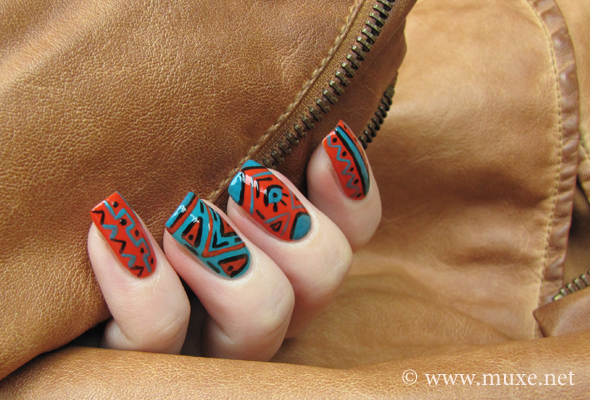 I don't want to say that it looks totally Aztec, I'd rather call it eclectic, because I just used as many tribal symbols as I could – snakes, eyes, stars etc. :)
For the tribal print nails I needed 3 nail polishes and 1 top:
Orange base color – Essie Capri
Greenish blue color – OPI Fly
Black color – Sally Hansen Black Out
Clear top – Orly Glosser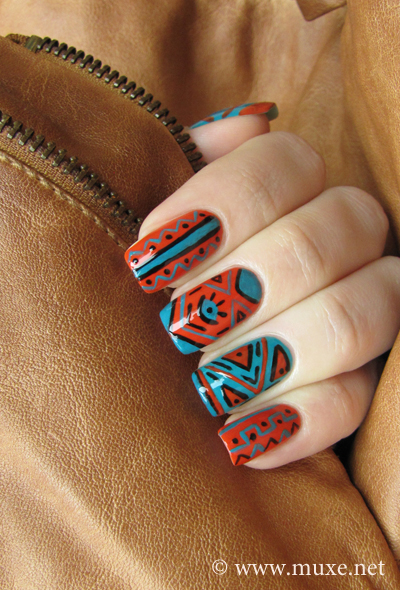 That's it, thank you for reading! I hope you liked my tribal nails and now I'm back to work. See you xxx
You can follow any responses to this entry through the RSS 2.0 You can leave a response, or trackback.